The end of the year lists are starting to appear, including lots of best of lists. Here are a couple focusing on books for Teens, YALSA, the Young Adult Library Services Association, creates a variety of lists including the
10 Best Fiction Books for Teens 2011.
A recommendation from Catherine Sullivan on the list:
Revolution
by Jennifer Donnelly. Combining music, time travel and the french revolution this well written book "spans centuries and vividly depicts the eternal struggles of the human heart." (Amazon)
Come check this book out from the library.
Another list from YALSA is the winners of
The Alex Award
, which goes to books written for adults with teen appeal.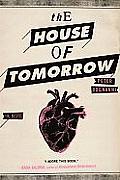 A recommendation from Lisa Shaner from this list is
The House of Tomorrow
by Peter Bognanni: Sebastian lives in a geodesic dome that also serves as a museum venerating Buckminster Fuller. His homeschooling by his grandmother has kept him isolated from others his age until he meets Jared. Suddenly Sebastian is seeing a whole new world of girls and rock n' roll and must negotiate between the life he was raised for and the one beckoning from outside the dome.
Terry Pratchett's combination of fantasy, humor and biting satire is one of the favorite authors of
International's Book'em Reading Club
. This year Pratchett is also the recipient of
the Margaret A. Edwards Award
which honors a single author for their contribution to young adult literature. Nine of his books, including
A Hat Full of Sky
,
Small Gods
and
Going Postal
, were specifically chosen for the award. Get your first taste of his quirky humor - or revisit a favorite book.